Best Place to Stay in Clarksdale, Mississippi – Blues Hound Flat
Blues Hound Flat is a cool place to stay in the heart of downtown Clarksdale, MS. Why stay at a stuffy hotel when you can relax in comfortable accommodations located in the heart of downtown Clarksdale, just steps from the Delta Blues Museum, and within easy walking distance to Ground Zero Blues Club, Cat Head Delta Blues & Folk Art, Rock 'n Roll Blues Heritage Museum and numerous authentic juke joints.
Blues Hound Flat can sleep up to 4 and is available for nightly accommodations or extended stay, Blues Festivals, and special events. No pets, please and No Smoking Allowed!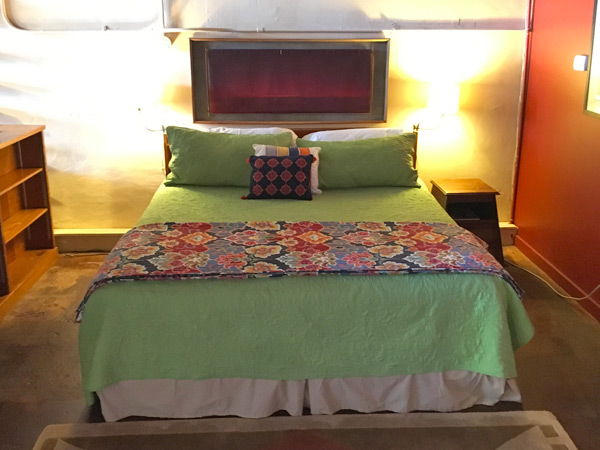 Enjoy 1,500 square ft. of laid-back loft living in downtown Clarksdale! Blues Hound Flat brings the Clarksdale blues music experience to life with an uptown feel and a howlin' good time. Wide open loft space with stained concrete floors, combo living, dining, kitchen, and bedroom area, all featuring local artwork.
The blues was born in the heart of the Delta in Clarksdale, Mississippi. Home of the "Crossroads" where Robert Johnson sold his soul to the Devil! Clarksdale has been the home to such famous Bluesmen as W.C. Handy, Robert Johnson, Ike Turner, Muddy Waters, Howlin' Wolf, John Lee Hooker and many more. Blues music has inspired other musicians throughout the world. Be a part of music history at Blues Hound Flat. Check out all the cool places to hear music in Clarksdale.
Clarksdale has so much cool stuff to do, click here for more details. Jump over to VisitTheDelta.com for even more Delta activities.
DIRECTIONS
Map to Blues Hound Flat
309 Issaquena
Clarksdale, Mississippi 38614
Blues Hound Flat located in historic downtown Clarksdale, Mississippi within walking distance to the Delta Blues Museum and Ground Zero Blues Club.