Mississippi Blues Trail Markers in Clarksdale, MS
  Clarksdale is proud to have many Mississippi Blues Trail markers to help tell the stories of our bluesmen and women who still influence our music today.
Hopson Planting Co.
One of the major factors behind the "great migration" of African Americans from the South to northern cities was the mechanization of agriculture, which diminished the need for manual laborers. In 1944 the Hopson Planting Company produced the first crop of cotton to be entirely planted, harvested, and baled by machine. Blues pianist Joe Willie "Pinetop" Perkins was a tractor driver here at the time. He later played in the band of Muddy Waters and enjoyed a successful solo career.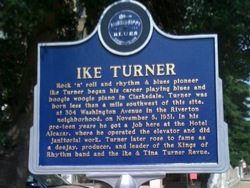 Ike Turner
Rock 'n' roll and rhythm & blues pioneer Ike Turner began his career playing blues and boogie woogie piano in Clarksdale. Turner was born less than a mile south-west of this site, at 304 Washington Avenue in the Riverton neighborhood, on November 5, 1931. In his pre-teen years he got a job here at the Hotel Alcazar, where he operated the elevator and did janitorial work. Turner later rose to fame as a deejay, producer, and leader of the Kings of Rhythm band and the Ike & Tina Turner Revue.
Muddy Waters' Cabin
In August 1941, on a field recording expedition sponsored by the Library of Congress and Fisk University, Alan Lomax and John Work set up portable equipment in Waters' house to record Muddy and other local musicians, including fiddler Henry "Son" Simms. In the 1980s, after the vacant house was in disrepair, did tourists begin visiting it as a Muddy Waters shrine. In 1987, guitarist Billy Gibbons of the rock group Z.Z. Top had "Muddywood" guitars crafted from the planks of the house. Z.Z. Top subsequently used the guitars to promote a fund-raising drive to benefit the Delta Blues Museum.
Riverside Hotel
Since 1944 the Riverside Hotel has provided lodging for traveling musicians. It was home to some, including Sonny Boy Williamson II, Ike Turner, and Robert Nighthawk. Before that, the building served African Americans of the Delta as the G.T. Thomas Hospital. Blues singer Bessie Smith died here in 1937 from injuries sustained in a car accident while traveling to Clarksdale for a performance.
Sam Cooke
The golden voice of Sam Cooke thrilled and enchanted millions of listeners on the hit recordings "You Send Me," "Shake," "A Change is Gonna Come," "Chain Gang," and many more. Cooke was a pioneer of the genre that became known as soul music in the 1960s. Cooke was born in Clarksdale on January 22, 1931. His family resided at 2303 7th Street until they moved to Chicago in 1933.
The New World District
This neighborhood, known since the turn of the twentieth century as the New World, was a breeding ground for ragtime, blues, and jazz music in Clarksdale's early days as a prosperous and adventurous new cotton town, when brothels here attracted both white and black clientele. Jews, Italians, Chinese, Syrians, and Greeks owned various local businesses, as did some African Americans who lived here, including the Messenger family, which opened its first business on this block in the early 1900s.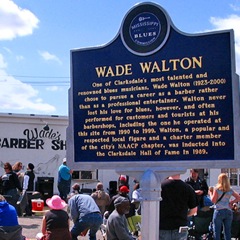 Wade Walton
One of Clarksdale's most talented and renowned blues musicians, Wade Walton (1923-2000) chose to pursue a career as a barber rather than as a professional entertainer. Walton never lost his love for blues, however, and often performed for customers and tourists at his barbershops, including the one he operated at this site from 1990 to 1999.
WROX
WROX, Clarksdale's first radio station, went on the air on June 5, 1944, from studios at 321 Delta Avenue. From 1945 until 1955 the station was headquartered here at 257 Delta. Legendary disc jockey Early "Soul Man" Wright became the top personality in local broadcasting after joining the WROX staff. Among the notable blues artists who hosted programs or performed on the air at this site were Ike Turner, Robert Nighthawk, Sonny Boy Williamson No. 2, Raymond Hill, and Doctor Ross.
There are many more Blues Trail Markers around Clarksdale and in the Mississippi Delta, visit Mississippi Blues Trail to view them all.
DIRECTIONS
Map to Blues Hound Flat
309 Issaquena
Clarksdale, Mississippi 38614
Blues Hound Flat located in historic downtown Clarksdale, Mississippi within walking distance to the Delta Blues Museum and Ground Zero Blues Club.