Fun Stuff to Do in Clarksdale, MS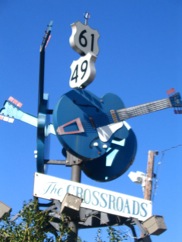 Blues Town Music
317 Delta Avenue
662-645-1816
Guitars and musical instruments (vintage and new)
Cathead Delta Blues & Folk Art
252 Delta Avenue
662-624-5992
Blues CDs, DVDs, books, t-shirts and folk art
Clarksdale Station
Located in Blues Alley – across the street from Blues Hound Flat
Renovated passenger train depot, now houses the Dutch Oven pastry shop and the Depot Blues Club
The Crossroads – A legendary tourist stop and great photo-op
Hwy. 61 at 49 in Clarksdale.
Carnegie Public Library
114 Delta Avenue
662-624-4461
Delta Blues Museum
1 Blues Alley
662-627-6820
Mon.-Sat., 9am-5pm, Mar.-Sept.; Mon.-Fri., 10am-5pm, Oct.-Feb.
Muddy Waters' cabin, signed guitars, blues photos and gift shop. A must-see!
Early Wright's Gravesite
Resting place of one of the South's most famous DJ's. Heavenly Rest Cemetery, Lyon, MS, just north of Clarksdale on hwy. 61. (Unfortunately, the grave lacks headstone at present.)
Foxtrot Gallery
247 Delta Avenue
Gallery's current exhibit "Roots" features pieces by artist/owner Austin Britt as well as paintings by international artists Ephraim Urevbu and Zeinu Mudeser. For opening times and information call: 662.313.4547
Friars Point/North Delta Museum
662-383-0051
15 miles northwest of Clarksdale off Hwy 1 is Friars Point, birthplace of Conway Twitty and home of the North Delta Museum with Civil War and Indian history exhibits.
Greyhound Bus Station
Corner of 3rd and Issaquena
Restored and available for tour bus parking and special events/receptions. Contact Delta Blues Museum at 662-627-6820 with questions.
Hambone Art Gallery
111 E. 2nd Street
662-253-5586
Art by Stan Street, artist and musician. Folk art and fine art, blues musician portraits, posters and more.
Henry "Son" Sims grave site
Buried in unmarked grave at Bell(e) Grove Cemetary. (Slated for eventual headstone courtesy Mr. Zion Fund.)
Hopson Plantation
Shack Up Inn / Hopson Commissary
1 Commissary Circle, off Highway 49
662-624-8329
Ike Turner's home
304 Washington St.
Where the Father of Rock 'n Roll grew up. His "Rocket 88" is credited with being the first rock 'n roll record.
Lambfish Art Company
114 3rd Street
662-934-4226
Gallery and studio featuring the art and pottery by Joey Young.
Mississippi Blues Trail Markers
Several Blues Trail Markers are in and around Clarksdale.
Moon Lake/Yazoo Pass
Bound by Highways 1 and 49, scenic Moon Lake is an oxbow of the Mississippi River. Tennessee Williams' wrote about Moon Lake in several of his dramas.
Miss Del's General Store
145 Delta Avenue downtown Clarksdale
Mon.-Sat.
Gourmet foods, antiques, fine chocolates, pecans and usually lattes and cappuccinos
Muddy's Mound
Stovall Rd between Lee Dr. and Hwy 1
Former site of Muddy Water's famous cabin (now housed inside the Delta Blues Museum). A marker on the site tells the story and includes this quote from Eric Clapton, "Muddy Waters' music changed my life, and whether you know it or not, and like it or not, it probably changed yours, too." A Mississippi Blues Trail Marker at the Mound.
New Roxy Theatre
357 Issaquena Avenue
Blues Trail Marker Sam Cooke: This former movie theater is located in the Historic New World District of Clarksdale Mississippi. Currently open only for special events which often feature live blues music.
Quapaw Canoe Company
291 Sunflower Avenue
662-627-4070
Join artist/musician/adventurer John "Riverman" Ruskey on a canoe trip on the mighty Mississippi or the Sunflower River.
Riverside Hotel
615 Sunflower Ave.
662-624-9163
Site of African-American hospital where Bessie Smith died in 1937. Ike Turner, Robert Nighthawk, Sonny Boy II, Pop Staples, John Lee Hooker and John F. Kennedy, Jr. all stayed or lived here after it became a hotel/boardinghouse. There is now a State Blues Trail Marker at the Riverside.
Rock 'N Roll & Blues Heritage Museum
113 E. 2nd Street
901-605-8662
Museum full of rare rock and roll memorabilia from the 1950s and 60s. Open Friday and Saturday 11 am – 5 pm, open during festivals and by appointment.
Sam Cooke's Home
Corner of 7th Street & Illinois Avenue
Soul music's legendary Sam Cooke was born in Clarksdale in 1931. A Blues Trail Marker honors him outside the New Roxy Theater on Issaquena Avenue.
Tennessee Williams Historic District
Sharkey Ave. at First Street, Court and Clark Street
Clarksdale is the childhood home of playwright Tom "Tennessee" Williams. Take a walking tour of the this historic neighborhood that influenced the characters and events in his plays.
Wade Walton Barber Shop
317 Issaquena Avenue
Clarksdale's famous blues barber who not only cut the hair of Ike Turner, Sonny Boy Williamson II and others, but recorded blues on local and international labels. The original barber chair, stool, counter with sink, Coke machine and storage cabinets are now on display in the Rock & Blues Museum.
Wade Walton's gravesite
McLaurin Gardens cemetary, Lyon, MS, just north of Clarksdale on hwy. 61. Nice headstone.
W.C. Handy Home marker – next door to Blues Hound Flat
The so-called "Father of the Blues" lived here in the early 1900s when he first heard the blues in nearby Tutwiler. On Issaquena, right next door to Blues Hound Flat.
W.R.O.X Radio AM 1450
Clarksdale's Hometown Radio Station
W.R.O.X. Museum (a.k.a. Clarksdale History & Cultural Museum)
257 Delta Avenue
662-645-8874
This was the site of the W.R.O.X. blues radio station from around 1946 to 1953, according to the building's current owner, Bubba O'Keefe. Early Wright, Ike Turner and Robert Nighthawk all had shows here, plus Elvis, Sam Cooke and Sonny Boy Williamson II were all on the air there at some point in time. Open festival weekends or by appointment.
A little further away…
B.B. King Museum and Delta Interpretive Center
About 1 hour drive from Clarksdale
400 Second Street, Indianola, MS 38751
Phone: 662-887-9539
DIRECTIONS
Map to Blues Hound Flat
309 Issaquena
Clarksdale, Mississippi 38614
Blues Hound Flat located in historic downtown Clarksdale, Mississippi within walking distance to the Delta Blues Museum and Ground Zero Blues Club.