Juke Joints & Live Blues Music in Clarksdale, MS
Club 2000
Just down the street on Issaquena, near New Roxy Theater
Delta Blues Room
220 Sunflower
662-624-9200
Open most evenings with great food, regular DJ events and occasional "live" blues. 
The Den
220 Yazoo Avenue
901-605-8662
An annex of the Rock & Blues Museum, a smoke-free environment featuring musicians and art exhibits.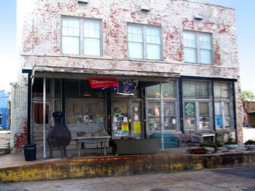 Ground Zero Blues Club
0 Blues Alley
662-621-9009
Really cool juke joint Co-owned by actor Morgan Freeman. Open Wed. thru Sat. with everything from basic blues jam to well known artists the likes of Big T and Super Chikan.
Hambone Gallery
111 E. 2nd Street
662-253-5586
Live music (usually blues) every Tuesday, around 7pm. Non-smoking.
Messenger's
133 MLK Boulevard (4th St.) between Sunflower and Yazoo
662-624-2305
The oldest, continuously running business in Clarksdale. It's a pool hall, domino den, juke joint and café.
Pete's Grille
550 Sunflower Avenue, close to the Riverside Hotel
Red's Blues Club
395 Sunflower Avenue (Former LaVene Music Center building)
662-627-3166 or 662-627-1367
Corner of Sunflower Avenue & Martin Luther King, Jr. Drive.
Authentic juke joint – you MUST go here!
River's Edge
287 Sunflower Avenue
Smitty's Red Top Lounge (Closed but for sale)
377 Yazoo Ave.
Please move to Clarksdale and re-open this legendary juke joint!
A little further away…
Po Monkey's Lounge
near Merigold, MS
Rural Juke Joint featuring music on Thursday evenings
Juke Joint Chapel
001 Commissary Circle
662-624-8329
Live blues music in the Cotton Gin Inn at Hopson Plantation
Hopson Commissary
Hopson Plantation (about 3 miles south of Clarksdale off Route 49
662-624-5756 
Live blues and rock 'n roll music in the commissary at historic Hopson Plantation
DIRECTIONS
Map to Blues Hound Flat
309 Issaquena
Clarksdale, Mississippi 38614
Blues Hound Flat located in historic downtown Clarksdale, Mississippi within walking distance to the Delta Blues Museum and Ground Zero Blues Club.